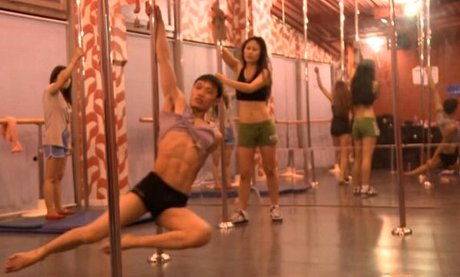 Beijing - Wah! Seorang perwira polisi di China beralih profesi menjadi penari. Tidak tanggung-tanggung, pria berusia 24 tahun ini memilih tarian jenis pole dancing (tarian dengan menggunakan tiang) yang identik dengan tarian telanjang.
Namun, Gong Yifei (24) memilih pole dancing bukannya tanpa alasan. Dia ingin agar tarian ini bisa lebih dihormati sebagai sebuah seni.
"Saya kini berusia 24 tahun dan saya sudah suka menari sejak saya kecil," tutur Gong Yifei seperti dilansir BBC, Selasa (31/1/2012).
Gong kini masih menjalani kursus pole dancing di sebuah sanggar tari pole dancing pertama dan terbesar di China, Luolan Pole Dancing Club. Dia mengaku tertarik mendalami pole dancing setelah melihat video online yang diposting oleh Luolan.
"Saya suka bagaimana pole dancing membentuk otot saya dan meningkatkan kepekaan irama saya," ucapnya.
Di sanggar tari tersebut, Gong berlatih dengan murid-murid yang sebagian besar perempuan. Namun, dia tidak merasa malu dengan hal tersebut.
"Tidak ada alasan untuk menilai bahwa pria kalah dengan wanita dalam hal menari. Terutama ketika berkaitan dengan pole dancing, di mana kekuatan maskulin sama pentingnya dengan fleksibilitas feminin," jelas Gong.
Selain sangat menggemari tarian ini, Gong juga memiliki harapan khusus agar pole dancing dipandang lebih terhormat. Sebab, selama ini tarian ini lebih sering dianggap sebagai tarian erotis yang cabul.
"Suatu hari, mungkin saya akan menjadi guru tari part-time. Saya akan membantu orang-orang untuk lebih memahami apa itu pole dancing. Saya berharap orang-orang bisa belajar untuk menerima dan menghormati seni menari pole dancing," tandasnya.
Sebelum beralih profesi, Gong telah bergabung dengan militer dan menjadi salah satu anggota militer China, People's Liberation Army sejak usia 18 tahun. Kemudian militer mengirimnya untuk bergabung dengan satuan Kepolisian. Karir Gong di Kepolisian tidaklah buruk, dia sempat mendapatkan promosi menjadi pemimpin pasukan menyusul keberhasilannya dalam operasi penyelamatan sandera.
bersumber : detiknews.com
Beijing - whew! A Chinese police officer turned-dancer. No half-hearted, 24-year-old man chose pole dancing dance types (using pole dancing) that is identical to dance naked.
However, Gong Yifei (24) chose pole dancing is not without reason. He wants this dance can be more respected as an art.
"I am 24 years old now and I've loved to dance since I was little," said Gong Yifei as reported by the BBC, Tuesday (31/01/2012).
Gong is still undergoing a course in pole dancing pole dancing a dance studio first and largest in China, Luolan Pole Dancing Club. He admitted that he becomes interested in pole dancing after seeing an online video posted by Luolan.
"I love how my pole dancing build muscle and increase the sensitivity of my rhythm," he said.
In the dance studio, Gong practice with students who are mostly women. However, he did not feel embarrassed by it.
"There is no reason to consider that men lose to women in terms of dancing. Especially when it comes to pole dancing, where the power is as important as flexibility masculine feminine," said Gong.
Besides being very fond of this dance, Gong also has special expectations that pole dancing is considered more respectable. Therefore, during this dance is more often regarded as obscene erotic dance.
"One day, maybe I would be a part-time dance teacher. I will help people to better understand what it is pole dancing. I hope people can learn to accept and respect the art of dance pole dancing," he said.
Before switching professions, Gong has joined the military and became a member of the Chinese military, the People's Liberation Army since the age of 18. Then the army sent him to join the police force. Career in Police Gong is not bad, he could get a promotion to squad leader following his success in a hostage rescue operation.
source: detiknews.com